What if you had a
crystal clear path
to making DAILY SALES in your Etsy shop?
Maybe you launched your handmade shop with a few products, announced it on Instagram, got a few sales from friends & family but then…

It just wasn't as easy to get Etsy sales as you'd hoped.

Or, it was going strong for awhile, but now your Etsy shop has gone stale?

Or, you just seem to only get "favorites" notifications but not sales?

It's actually possible to make DAILY sales on Etsy...

…Not by hustling every day on social media

…and not by spending money on Etsy ads (not even a DOLLAR $)
But by:

✔️ Learning SEO

✔️ knowing EXACTLY how to research product that will sell on Etsy

✔️ learning how to position your products, find your profitable niche & build your Dream Business
Maybe you...

Don't know what you're "doing wrong" in your Etsy shop…

And you wish sales would just happen faster…

Feel confused about Etsy SEO, keywords, and "optimization"...

And you feel like you're too late, or there's just too much competition to be successful...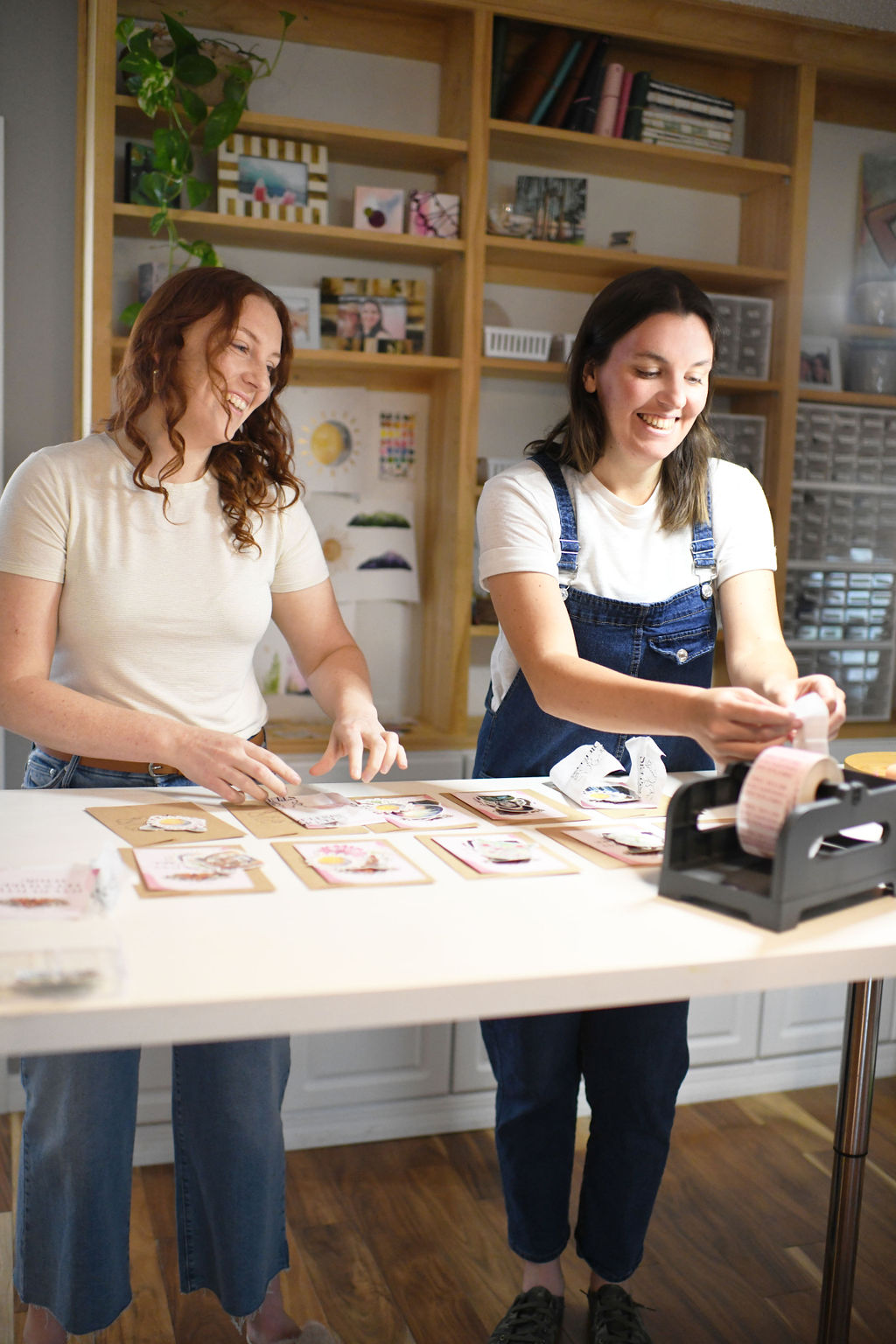 Look, we used to be there too.
If only we'd known YEARS AGO what we know now about selling handmade online.


We've worked really hard to learn everything there is about Etsy handmade sellers. We've invested 1000s of hours into being the BEST on Etsy.


We built a Top 0.01%-ranked Etsy shop selling across all product types (physical products, print-on-demand, and digital products).

So... you might be wondering, how on earth did we do it?
How do we make so much MONEY on Etsy, selling handmade products?
PLUS - how do we stand out on such Etsy, when it's so huge?
And the answer is…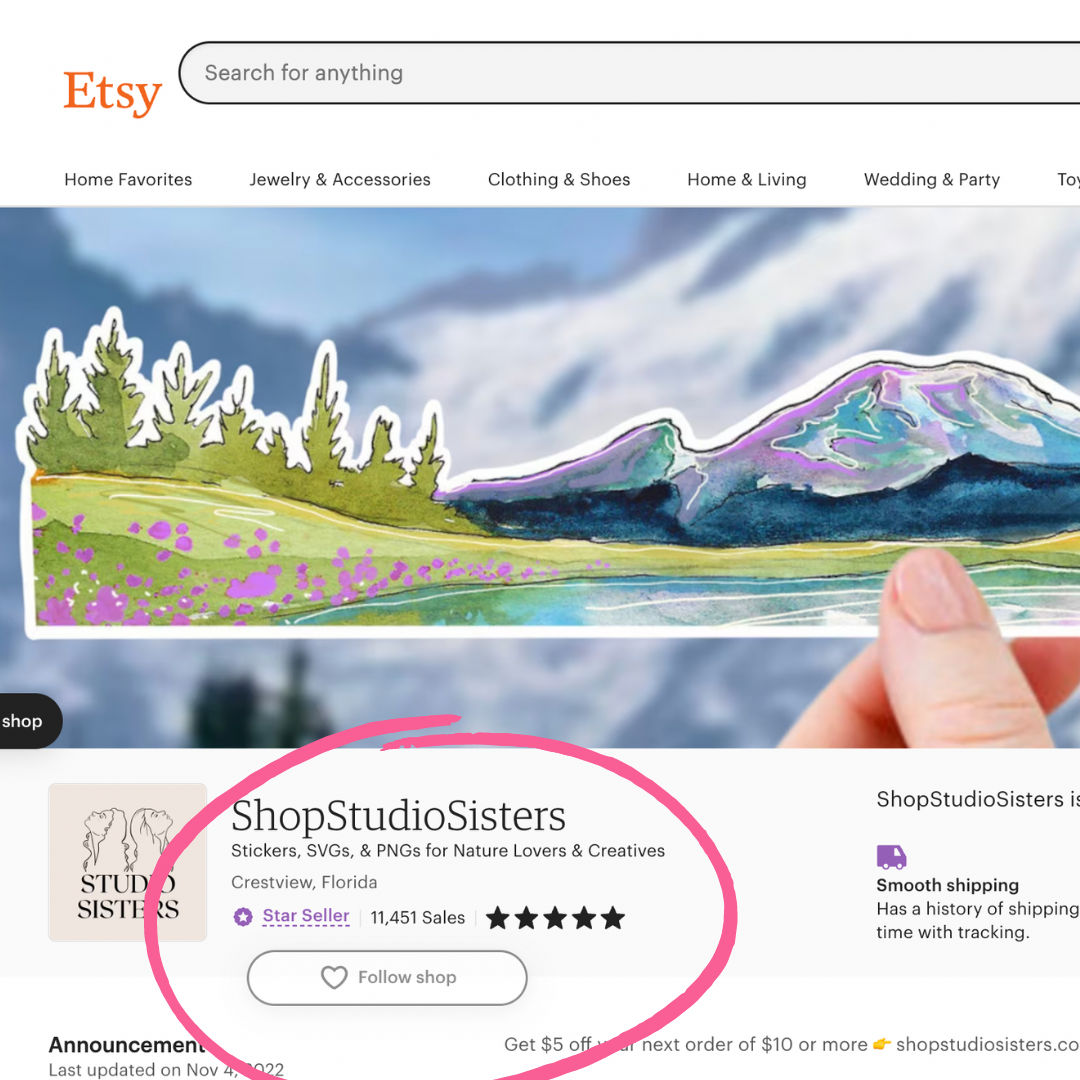 ✔️ Niching Down
✔️ Knowing *Exactly* Who We're Selling To
✔️ Goal Setting
✔️ Daily & Weekly Workflows
✔️ Flawless Product Photography
✔️ Killer Etsy Listing Descriptions
✔️ 100% Understanding and Using Etsy SEO to Drive Traffic
✔️ Fully Optimizing Our Etsy Shop Profile
✔️ Scaling Our Shop to Save Major Time 

And the cool thing is?


We turned this exact strategy into an easy,
step-by-step guide that you are able to fully duplicate!
Your Instructors - Taylor & Katie
This course is built on the exact strategy we used to sell more than 25,000 products on Etsy while also having the time & money we wanted to create, travel, and live our dream lives.
Taylor is a former ESL teacher-turned-CEO who was able to quit her underpaying teaching job thanks to our full time Etsy biz. She's the business manager behind-the-scenes who is an expert in achieving crazy-epic goals in your small business.

Katie is an award-winning artist who designs all of our products and who's insanely passionate about helping other artists grow.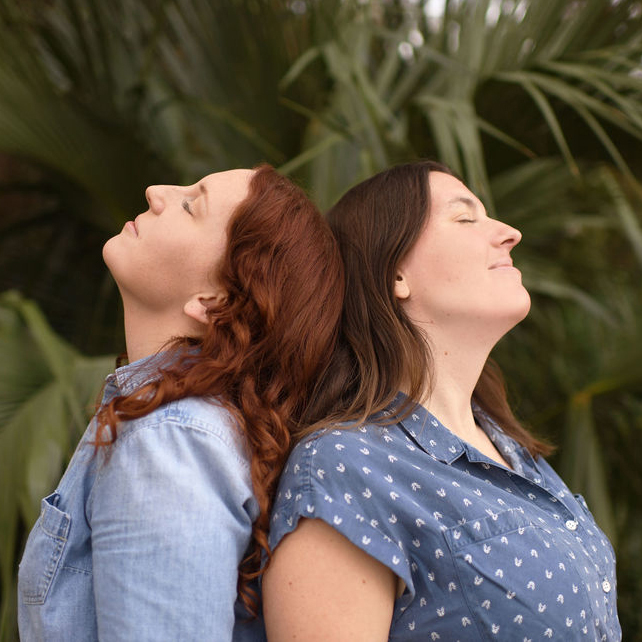 Our business has allowed us to:
Make & sell more than 25,000 handmade products on Etsy
Have multiple best-selling products on Etsy's homepage
Make more than $100,000 on Etsy since launching in 2020
Have the time to do everything we want including traveling, creating, and spending time with our family.
So, basically, we know what we're doing when it comes to Etsy and creative brands.
We want YOU to experience "New Order" notifications while you're traveling, having family time, or out at dinner.
We also want you to spend wayyyy less time wondering exactly what it is you could do to get results…(you don't have to feel this way!)
We want to share with you our ENTIRE strategy.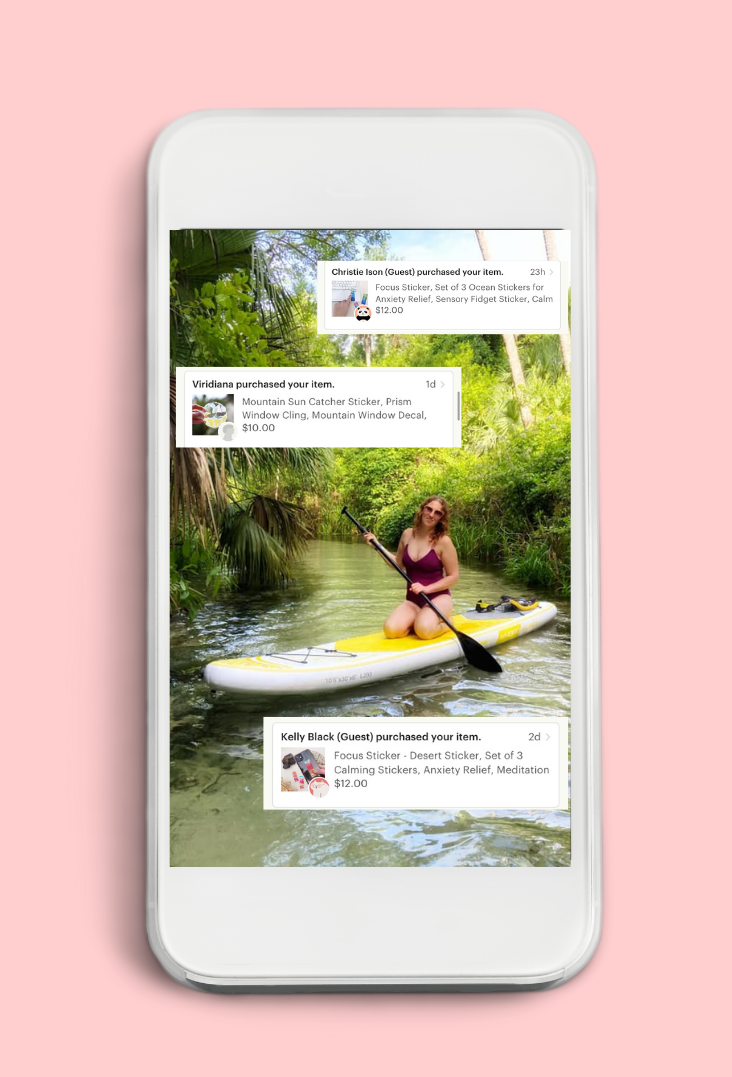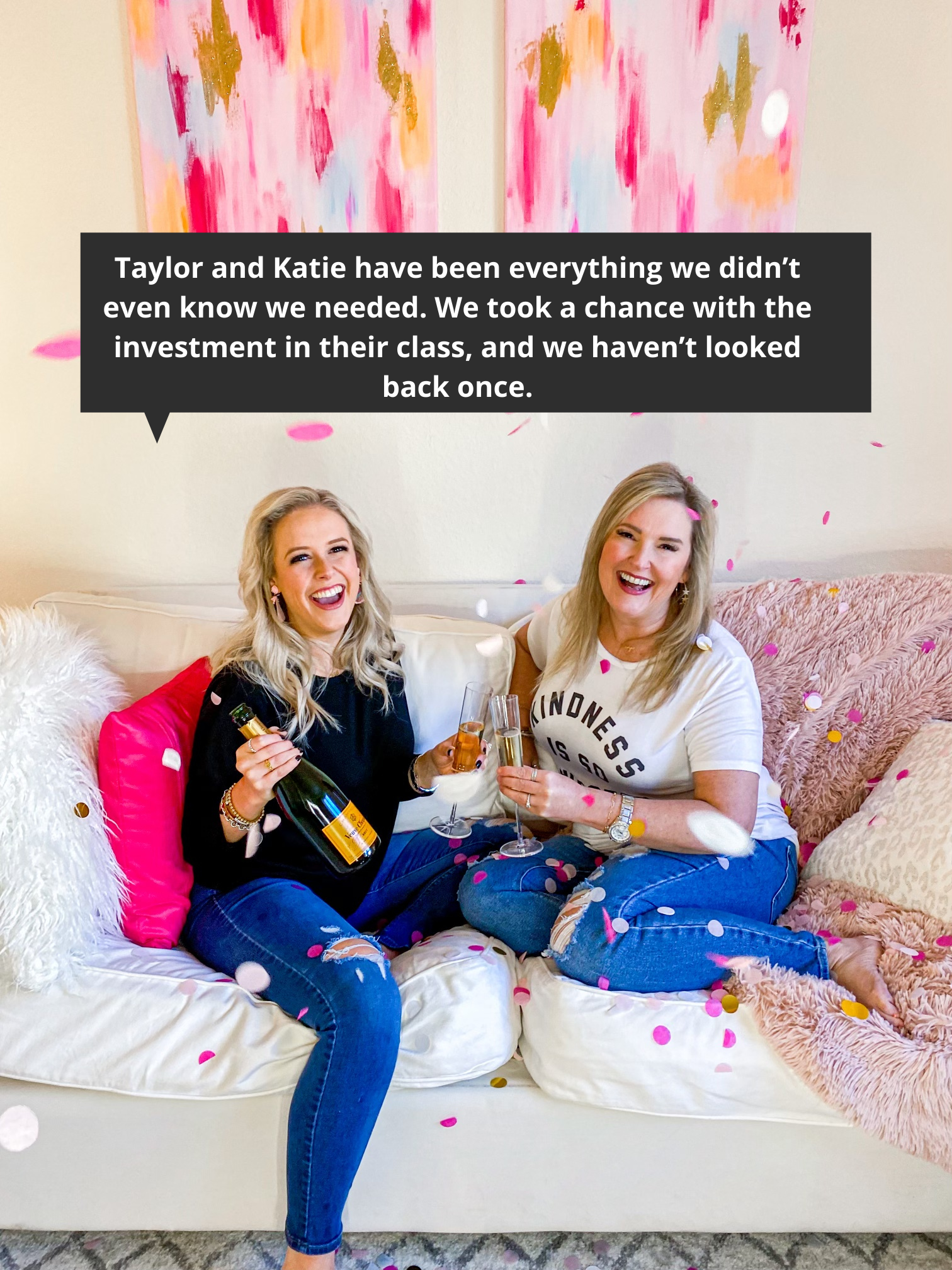 Hear what our students have to say:
The Dream Create Sell course has been EVERYTHING for us! We started our small pinback button business on Shopify with minimal results. Five months later, we enrolled in Dream Create Sell.
We opened our Etsy shop on July 3rd and had our very first sale precisely a week later.
We listened to every word Taylor and Katie had to say and followed their instructions exactly. Now, fourteen weeks later, we have had 5,533 views and 2,187 visits. We have made over 200 sales, and 67 orders, with a 3.1% conversion rate. Following their mantra, under promise and overdeliver- has earned us 32, 5-star reviews just in this short time. 
We have two 'Etsy Bestsellers' and one 'Popular Now' listing. We are ecstatic with our success, and we will keep pushing to the top.
Katie and Taylor genuinely have been our small business besties!
They laid out an easy-to-follow actual roadmap of success, and we are honestly beginning our dream. We have completely closed our Shopify site, and we are 100% committed to Etsy. 

Since the lessons are prerecorded, we could replay and rewind as many times as needed. They use simple explanations, and we weren't stopping to google each term they used because they were so crystal clear in their teachings. They have continued to be a wealth of quick information with every question, big or small, that we have. 
We can't recommend this course enough.
Without it, we certainly would not be on the path we are today.
We have resonated with our dream customers so much, making this journey the most fun job we've ever had. We have zero regrets. Invest in your future and stop wasting time with all the others! We are really doing this!

Lesson Sneak Peek - take a look at the entire Course Curriculum!
Take a peek inside the course lessons:
Upon enrollment in the course, you'll get immediate access to all of the course including:
*Video Tutorials*
*Worksheets & Checklists*
*Helpful Links & Resources*
*Private Members-Only Community *
*Lifetime Access to all Dream, Create, Sell resources & updates*
By the end of this self-paced course, you will have…
Identified your niche & your Dream Customer
Fully set up your Etsy shop, optimized your keywords, and have 100+ listings in your Etsy shop
A PLAN for how to set goals and achieve them in your business
Daily & weekly workflows for your Etsy business
An understanding of the best practices on Etsy, how to master the algorithms, and how to know what your customers will love so you can bring in more sales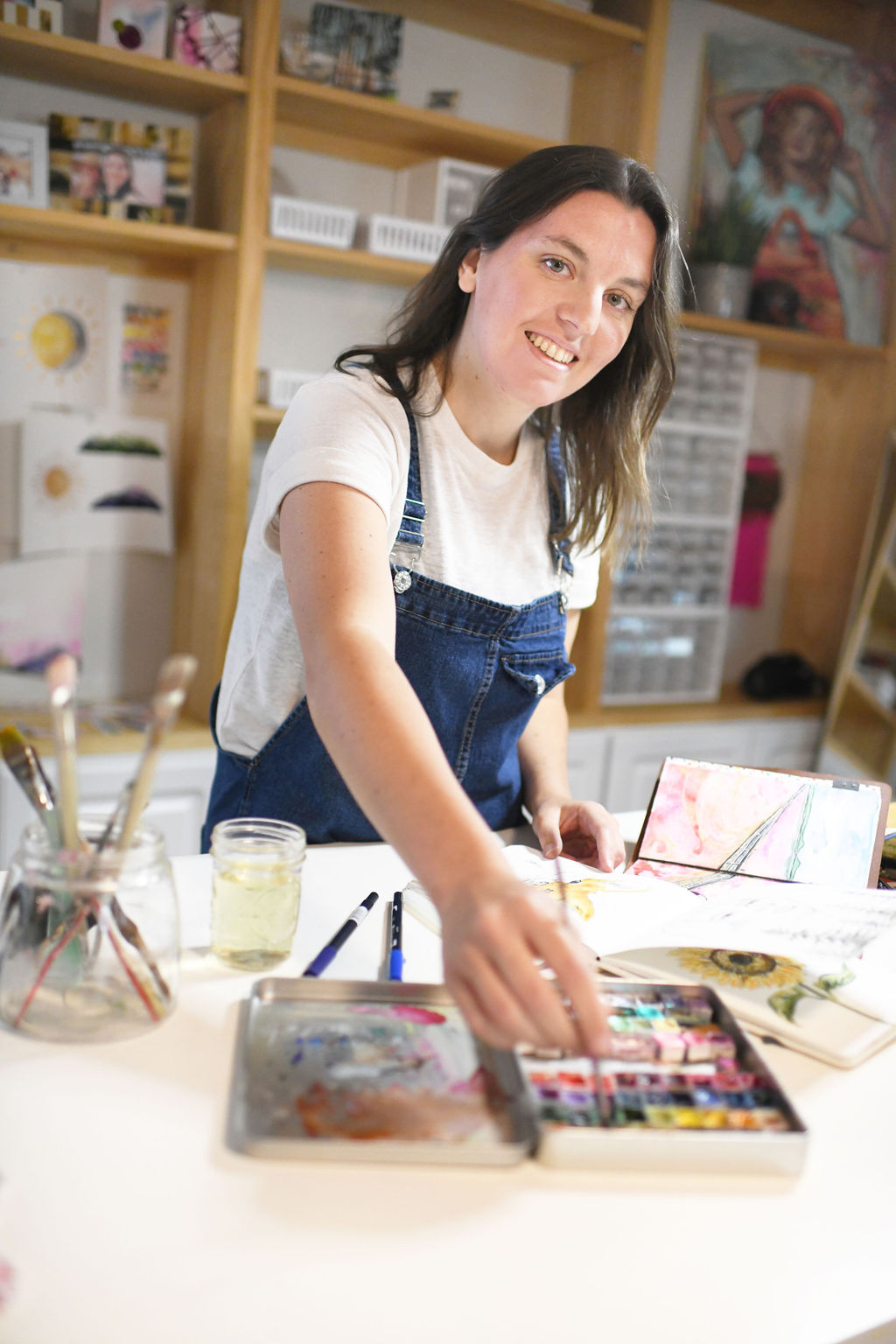 What kind of business owners can benefit from Dream, Create, Sell?
ALL current Etsy sellers including:
✔️ Handmade
✔️ Digital
✔️ Print-on-demand sellers

 who want to sell MORE.

✔️ Anyone who wants to start an Etsy shop from scratch 

...and anyone who wants to grow their Etsy shop & their handmade brand!

Frequently Asked Questions


When does the course start?
 The course starts when you sign up and never ends! It is a completely self-paced online course - you decide when you start and when you finish.
How will I get the course?
The course is hosted on Teachable. After you purchase, simply login with your account and you have unlimited access to this course for as long as you like - across any and all devices you own.
Does it matter what I make and sell?
No! This course is for anyone who wants to grow their Etsy shop & their handmade brand! In the course, we *do* help you decide how to market your work and who your dream customer is!
We have experience (in our own shop) and helping current DCS students sell SUCCESSFULLY in not only physical products but also print-on-demand AND digital products.
I'm not good at tech stuff. Do I have to be a computer person to really be good at Etsy/figure out the algorithm?
No! We explain everything out in the course, starting with the basics to more advanced SEO. Anyone can do this.
What if I'm terrible at photos? Can you teach me what to fix?
We have a lesson *ALL* about product photography.
I'm super new to Etsy. Is this course right for me?
YES. If you're new to etsy, or you feel like your etsy shop is stuck and not making sales, or if you feel like you could be doing better, this course is for you. We have a Foundations Lesson if you're starting from Day 1. Or, if you're more advanced but struggling to get sales, you're going to want the trainings on Auditing your underperforming products, and how to do product and customer research.
I work a full time job, will I have time to complete this course?
Yes! The course is self-paced and lifetime access so you have all of the time that you need! We do have 3 recommend course completion plans inside of the course, but you can do what works for your lifestyle!
>>> Not sure if it's right for you? Email us at [email protected] because we *always* reply and let's chat.
What's the price of the course?
3 Payment Plan: $159
Pay in Full: $397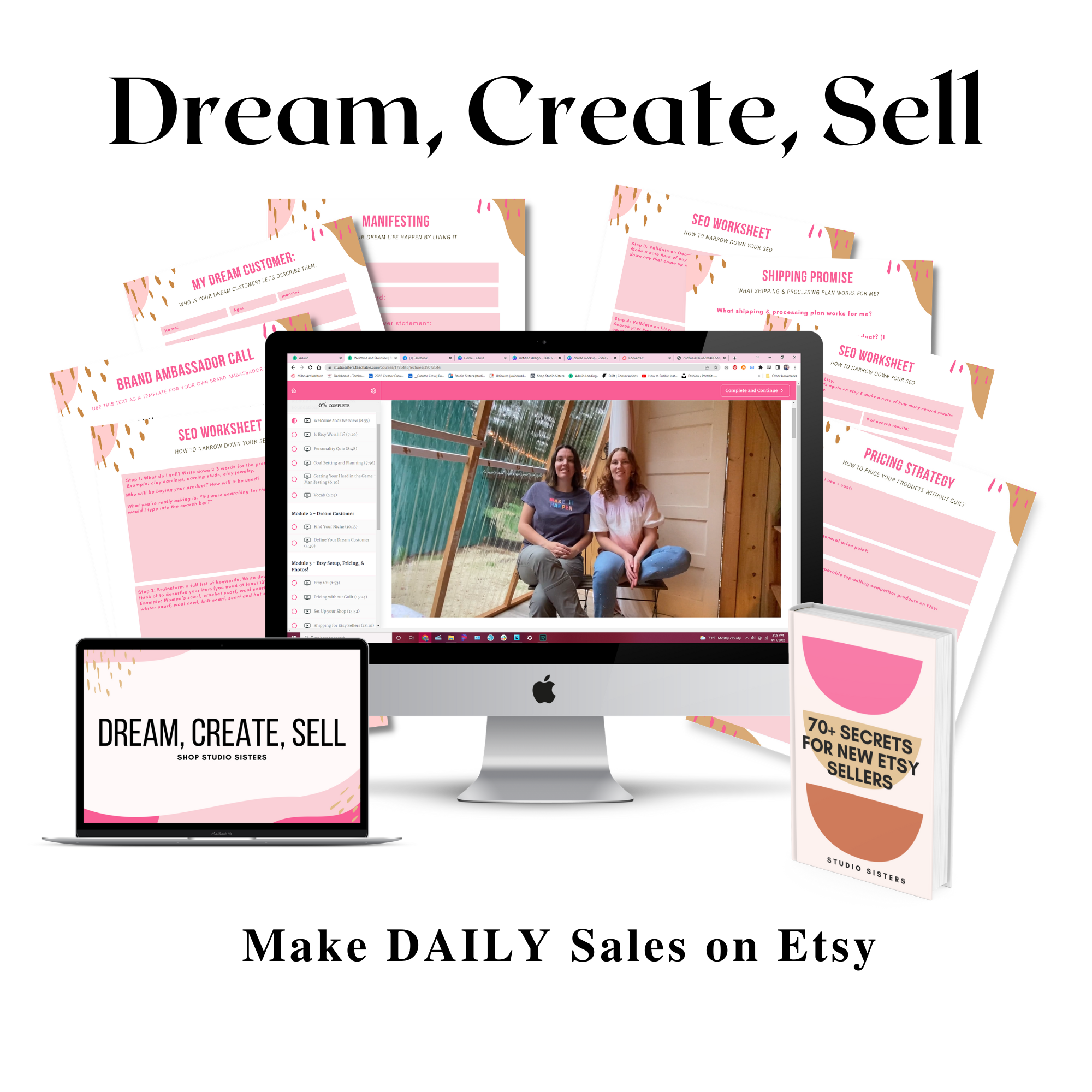 We are SO CONFIDENT in our proven strategy, that we guarantee that you'll see results and get more traffic to your Etsy shop after you fully complete the course. We know that our method works to grow your Etsy shop, make more sales, and get you aligned with the right customers who LOVE what you do.

Q: What if it doesn't work for me? Is the course refundable?
Sorry, no refunds are given! So, this course is for serious makers and business owners only -- so if you aren't 100% sure that you are ready to commit to showing up for your business in this course and taking action, it might be best to just think it over.
Plus, after having hundreds of Etsy sellers using our Etsy tips & strategies regularly in their businesses (as of January 2023), we feel 100% confident that our information WORKS for entrepreneurs who are willing to put in the work to complete the course.

TESTIMONIALS
-- "I am just starting out and it seems so overwhelming to learn how to effectively do it all. I'm very thankful I found you!" -Kristie A.
--- "I've been following your advice about _________________________________ & I've noticed my views have jumped up quite a bit! -Mandy F.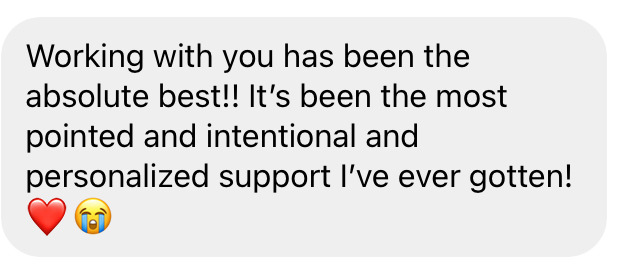 TESTIMONIAL

-DCS member Lauren in the handmade jewelry niche!

In DCS, Lauren has been able to build out goals & stick to them, helping her get more passive sales to supplement her in-person markets.


TESTIMONIAL

-DCS member Vanessa, in the seamless pattern design & stationary niche! She designs digital patterns & then sells physical goods using her patterns.
In DCS, Vanessa went from 0-250+ sales in less than a full year.


TESTIMONIAL

-DCS Member Max, in the fantasy & gaming niche! They sell print-on-demand.
In DCS, Max was able to more than triple their regular monthly sales by improving their SEO.

Testimonial:
"This course covers EVERYTHING you need to know when it comes to running your handmade business. From groundwork like knowing your personal motivation type, setting goals, understanding all the internet jargon to developing consistent habits that equal long term success to understanding the nitty gritty of how Etsy works and leveraging it for success. From creative tips to organizational help to business success - this course is a life raft in a sea of internet confusion and get rich quick hacks."
-Lauren H.